EyeDesign wins BEC AUSTRALIA Award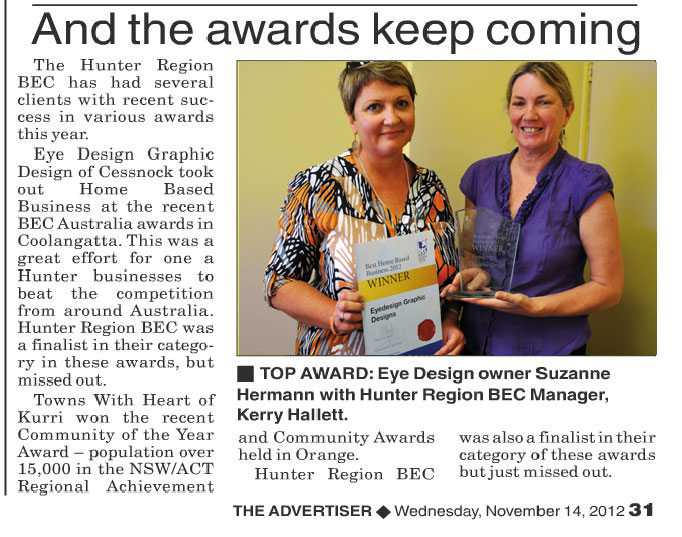 "I am extremely honoured that EyeDesign has won this National Award." says Suzanne Hermann, owner of EyeDesign. "I am grateful to Kerry Hallett, Manager of the Hunter Region BEC for supporting me and recognising my professional qualities."
"Suzanne is a well-respected graphic designer, working from her home studio in a beautiful rural setting. Suzanne has continued to offer competitive pricing, with a core group of regular clients who are more than happy to continue referring new clients. Not only is Suzanne running her own successful business, she now shares her time and experience through participation on the NEISAC panel assisting those participants who are looking to enter the final phase of the NEIS program (New Enterprise Incentive Scheme )– actually commencing their own business". says Kerry.
EyeDesign Graphic Design commenced 11 years ago after Suzanne saw an opportunity to fill a void at the high end of the graphic design market. She continues to run her award winning business from her purpose built studio in Nulkaba.
EyeDesign is one of the most successful home based businesses in the Hunter and has been recognised with several Awards for Business Excellence. Suzanne has also been a finalist for Customer Service and Business Woman of the Year.
EyeDesign specialise in Logo Design, Corporate Branding and print & web design. EyeDesign works with Web Developers, Designers and Marketing companies who are all home based and are located all over Australia to bring together a complete marketing package. EyeDesign has clients all over the Hunter and Newcastle areas as well as interstate and internationally.
Home-based businesses are now the fastest growing small business sector in Australia, according to the Australian Bureau of Statistics. As corporate downsizing continues to make news and the Internet makes telecommuting ever more productive, more and more people are discovering the benefits of running a home based business.
Suzanne truly shows how empowering it can be to be your own boss and have a lifestyle that some could only dream of.